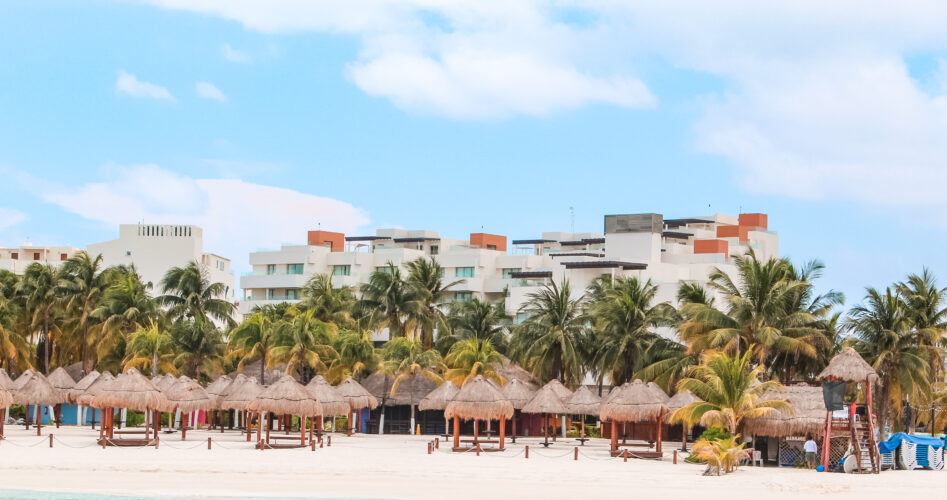 Holidays, travel, sightseeing, expeditions, tours, cruises… these the are words that in the times of the pandemic have been taken away from our vocabulary. Even thinking about them causes frustration, because all those plans to visit another country fell apart during 2020.
Definitely, in Covid19 times, traveling is not the recommended choice and staying at home is the best guarantee to protect yourself.
But there are those who spend hours (myself included) checking the cheap flights, hotels with ridiculous low prices and restrictions from each country. And we want to overcome the fear by taking "that" risk. At the same time, there is a business somewhere that needs tourism to survive in the midst of the crisis.
That's how in July I arrived at the Riviera Maya in Mexico. After researching what were the safest sites and what protective measures should be taken, Playa del Carmen, Tulum and Holbox were the best places to choose from. Days earlier, the area had received the International Seal 'Safe Travel', which is awarded by the World Travel & Tourism Council, for complying with high standards of protection.
The area reopened since June, and until September 6th, has been working with a capacity of 30% to 50% (phase 1), so an agglomeration was unlikely. Its beaches were closed, except Holbox, so I looked for entertainment options with the least danger of contagion.
THE DESOLATE AIRPORTS
We are told repeatedly that the airports are the most insecure places. From my personal experience, it didn't feel that way. I was stunned as I entered an empty Terminal 4 of John F Kennedy in New York. It was shocking to see it so quiet.
Checking in online, having carry-on baggage and keeping the ticket on my cell phone helped me avoid the line at the airline counter. At the security gate, officers as well as passengers were required to wear masks. No one comes near you unless the security scanner detects metal and there are wipes in every corner.
I traveled with Delta airlines. On my flight, 1 or 2 people were seated per line. The crew gave me hands sanitizer when I was boarding, and later, when I got a plastic bag with water and snacks.
Almost 4 hours with the mask is challenging, but the flight attendants checked regularly to verify that we didn't take them off. Their key suggestion: wash your hands frequently.
When I arrived at the Cancun airport, I observed that there were social distance guidelines in place, and everything looked disinfected. On my way back to US, I had to fill out an online form where I confirmed that I had no symptoms and I had not been in contact with an infected person to the best of my knowledge.
HOLBOX
My first destination was Holbox Island. For this trip, I decided to rent a car to the port of Chiquilá and then take the boat. The ferry has limited capacity, and to enter, you have to cross a disinfection tunnel. Even to get on taxis (which are golf carts) the use of masks is mandatory.
The hotels had a capacity of 30%, so you feel like you're the only one staying. The employees shielded their faces with plastic protectors, in addition to their masks, and they also took the temperature of the guests and disinfected their shoes.
There are activities that do not require grouping. Hotels offer private tours of up to 5 people. The beach is wide, and you may not see another tourist swimming in the sea or tanning at a distance of 10 meters.
TULUM
The second destination was Tulum. This time the option was to rent a house on Airbnb. Its owners emphasized that their hygiene standards were rigorous, but they failed to provide disinfectant wipes.
Restrictions on covid19 and excess seaweed were the reasons why it was forbidden to enter the beaches and their archaeological area, but Riviera Maya has a range of attractions that includes lagoons and "cenotes" (natural freshwater ponds).
Tulum is one of the most visited Mayan sites in Mexico, but on this trip, I only saw the locals. No matter the size of the crowd, it is very charming. With so many picture-perfect points of interest, it's worth cycling through them, which is a traditional tourist activity.
For $8, I rented a bike for the day. Pedaling through the hotel area near the beach was a good option. The area is ideal for taking those perfect social media photos.
Places that are not be missed: The "Follow that Dream" sign from the Lolita store; Matcha Mama's swings; the sculpture "Come to the Light" by artist Daniel Popper at the hotel "Ahau"; the entrance of the Selina hotel, and the cenote inside the Clandestino restaurant.
Another option to enjoy, without any contact with more tourists, was the Kaan Luum lagoon. This giant nature reserve is open from 9am. It is characterized by its watercolor tones, which change as it becomes deeper. In addition, it has hammocks and swings around, making the site very pleasant and relaxing.
Th entry cost is 50 pesos (3USD). Additional equipment can be rented for kayaking or diving.
One of the sacred sites of the Maya were the "cenotes", which are freshwater ponds connected to caves and underground rivers. They are famous along the Yucatan Peninsula.
In Riviera Maya alone you can dive and swim in about 20 locations. Near Tulum is Gran Cenote, which is more open and spacious, and makes it easier to follow social distance guidelines. Here, disinfection protocols, our new normality, were applied and employees were diligently avoiding crowds.
RESTAURANTS
The beaches were closed, but the hotel restaurants in front of the sea were still worth it. It was still allowed to have a margarita and eat some tacos, enjoying the breeze and the view.
This is how in hotels such as The Mi Amor, in Tulum and Mamitas, in Playa del Carmen, you could even enter the pools without worries. Due to the limited number of allowed visitors, they were practically empty.
In Playa del Carmen, restaurants were coming back to life. Upon entering, the fully protected servers apply hands sanitizer to each customer and take their temperature. In addition, each table has signs to notify them that they have been cleaned, and the menus were barcodes that are scanned on the cell phone.
TOUR ON CATAMARAN
On my last day in the Mexican Caribbean, I decided to take a tour of Isla Mujeres on a catamaran. These trips had their capacity reduced from 50 persons to 12.
Upon entering the docks in Cancun, our temperature was taken, we were offered antibacterial sanitizer, and once in the catamaran, our shoes stayed in a box, which the crew disinfected.
The crew never took off their mask, but visitors could, as long as we were apart. We receive disposable equipment for snorkeling.
During my week in Riviera Maya, I could see that the local tourism industry continues to get ready for this new normal and for the time when the area reopens a 100 percent.
Tourism is considered an essential job in Mexico, so its community follow every rule and make us visitors be fully compliant with health protocols so that the danger of contagion is minimal, and all travelers feel confident to travel despite the uncertainty that the world is currently experiencing
TO NOTE:
The parks of the Xcaret group are open to the public, but with reduced schedules. It's best to check your www.xcaret.com
As of September 7, the beaches of Riviera Maya (Cancun, Playa del Carmen, Tulum and other municipalities) have already entered the phase two. Its beaches began to reopen by 60-70%.
Cancun Airport and Cozumel are open.
There is no quarantine required upon arrival to the Riviera Maya, Mexico. But for more information about restrictions and epidemiological risks, you can enter https://reactivemosq.roo.gob.mx (Spanish only).